What is a CPAP Pillow?
A CPAP pillow, or sleep apnea pillow, is a pillow that specially designed for individuals using a CPAP machine to treat sleep apnea. It features contours or cutouts to accommodate the CPAP mask and hose, minimizing pressure on the equipment and reducing air leaks. These pillows aim to enhance comfort, support proper spinal alignment, and prevent interference with the CPAP mask during sleep, ultimately improving the effectiveness of CPAP therapy.
What are the benefits of using a CPAP Pillow?
CPAP pillows offer several benefits for individuals using CPAP machines:
Improved comfort

: The specialized design reduces pressure points caused by the CPAP mask and hose, enhancing overall comfort during sleep.

Reduced air leaks

: The contours and cutouts in CPAP pillows help secure the mask, minimizing air leaks that can disrupt sleep and reduce therapy effectiveness.

Enhanced support

: They promote proper spinal alignment and provide adequate support for the head and neck, reducing strain and discomfort.

Stability

: Sleep apnea pillows help keep the mask and hose in place throughout the night, preventing shifting or dislodging of the equipment.

Better compliance

: Increased comfort and stability encourage consistent CPAP machine use, leading to better treatment adherence and improved sleep quality for those with sleep apnea.

Adjustable height

: One of the revolutionary aspects of the Lunderg CPAP Pillow is that is fully adjustable. It has a removable layer so you can find the perfect height for your comfort.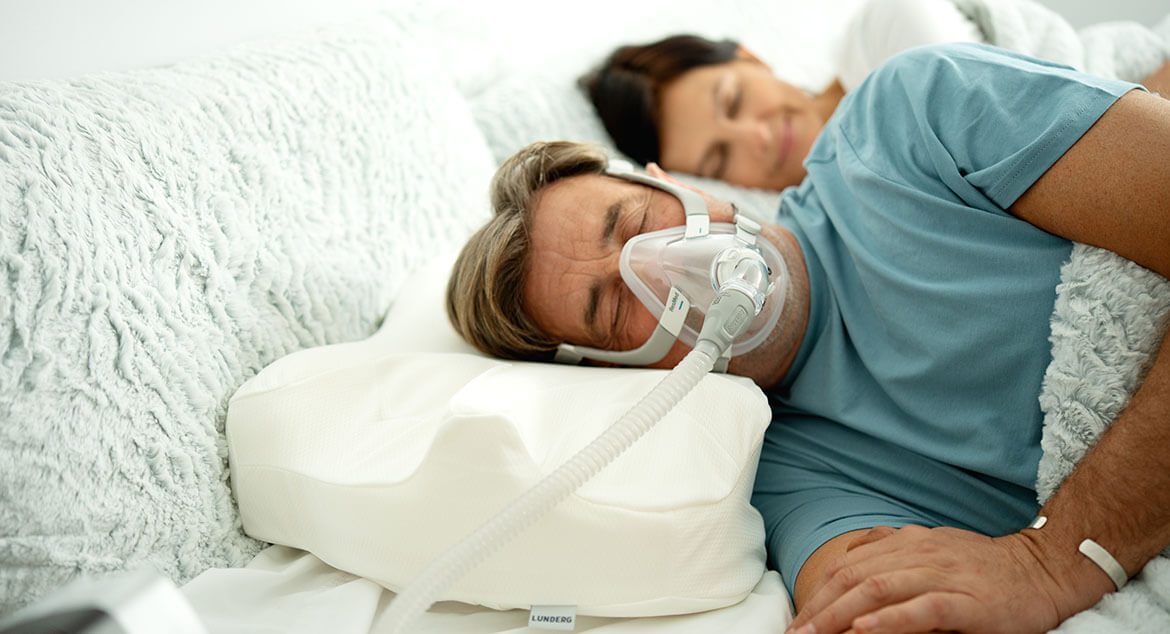 How do you sleep on a CPAP pillow?
Sleeping on a sleep apnea pillow involves positioning yourself in a way that optimizes the use of the CPAP machine while maximizing comfort. But first of all, you have to find the perfect height that you are comfortable with and, as we mentioned before, the Lunderg CPAP Pillow offers a removable layer that you can use for your convenience. Moreover, our pillow includes 2 different pillowcases: a Cooling Effect pillowcase and a Comfort pillowcase. We recommend trying both so you can feel the difference and choose the one that suits you best.
Once you have your pillow adjusted to your desires, you can follow these guidelines:
Place the Cutout or Contour Correctly:

Ensure that the cutout or contour designed for the CPAP mask aligns with your face. This helps to prevent pressure on the mask, reducing air leaks.

Position the Hose Comfortably

: Arrange the CPAP hose so that it doesn't get kinked or twisted during the night.

Secure the mask:

Once positioned comfortably on the pillow, ensure that the CPAP mask straps are adjusted snugly but not too tight. This helps maintain a proper seal without causing discomfort or pressure points.

Maintain Proper Head and Neck Alignment:

Ensure that your head is positioned comfortably, maintaining alignment with your spine.
Can anyone sleep on a CPAP pillow?
While the Lunderg CPAP pillow is specifically designed for individuals using CPAP machines, anyone can technically sleep on it. It is made with memory foam which makes it super comfortable for any user. 
In essence, a CPAP pillow is specifically engineered to complement and enhance the experience of using a CPAP machine by accommodating the mask and hose for better comfort and therapy adherence so those users who don't need a CPAP mask may feel better using a traditional pillow as they are more versatile.
It's essential to find a sleeping position that feels comfortable and allows for the proper use of the CPAP machine. Some individuals may need a transitional period to get accustomed to the contours and design of a CPAP pillow before feeling fully comfortable sleeping with it.