As we age, our needs and abilities change, and safety becomes a paramount concern, especially in our own homes. Among the various areas in our homes, the bedroom is a particularly important space, as it's where seniors spend a significant portion of their time. Ensuring bedroom safety for seniors is crucial in preventing falls and accidents and promoting a sense of independence thanks to mobility aids products. In this blog post, we'll explore some practical tips on how to improve bedroom safety for seniors.
Use Adequate Lighting to Improve Bedroom Safety
One of the most critical factors in bedroom safety for the elderly is adequate lighting. Poor visibility can lead to accidents, such as trips and falls. To improve lighting in the bedroom:
Install motion-activated night lights to illuminate the path to the bathroom or other frequently visited areas during the night.
Use bright bulbs in ceiling fixtures and bedside lamps.
Ensure that light switches are easily accessible from the bed.
Remove Tripping Hazards
Clutter and tripping hazards are some of the most common causes of accidents for seniors. Keep the bedroom floor clear by:
Removing loose rugs or securing them with non-slip pads.
Organizing and decluttering the room, ensuring that objects are put away.
Securing electrical cords along baseboards to prevent tripping
Bed Safety for Seniors
The bed itself can present safety challenges for seniors. Consider these precautions:
Use a Bed Assist Rail to help seniors get in and out of bed safely. Our bed assist rail is sturdy, easy to install, and comes with a security light and a storage pocket. This device is the perfect solution for seniors to get in and out of bed easily.
Lower the height of the bed to make it easier to access.
Ensure the mattress is firm and provides adequate support to avoid back or joint pain.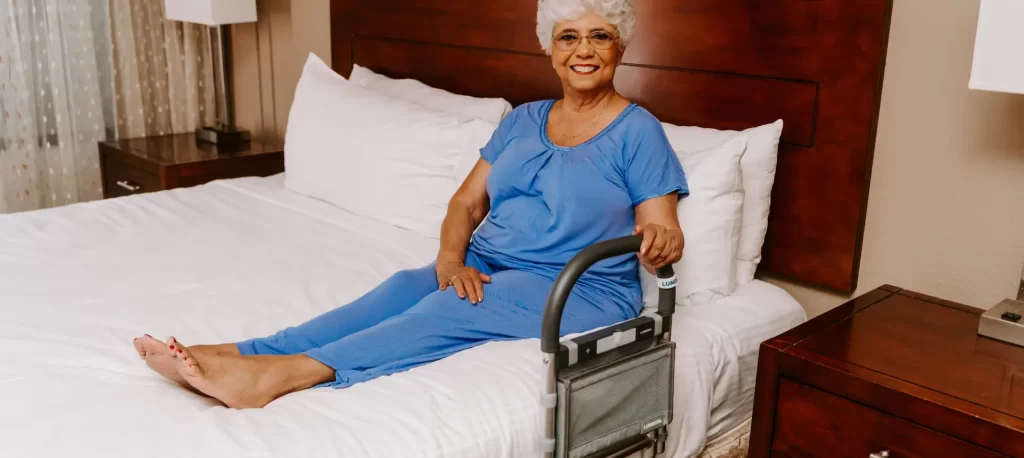 Nightstands and Accessibility to Improve Bedroom Safety
Place commonly used items within easy reach, either on nightstands, in wall-mounted shelves, or in the storage pocket of the previously mentioned bed assist rail. This reduces the need for seniors to stretch or bend, minimizing the risk of injury.
Additionally, some seniors may have to go frequently to the toilet at night so installing a bedside commode may be a great solution to avoid these bathroom trips. Our liners and pads for commode fit any commode and make clean-up a breeze. You won't have to worry anymore about having to clean the bucket.
Emergency Response
In some cases, especially for those seniors with dementia or Alzheimer, it is suggested to install a bed alarm for seniors that will notify you when they get out of bed. This way you can be there before they fall. Luckily, at Lunderg we offer different types of wireless bed alarms that will give you peace of mind, especially in the middle of the night.
In case of emergencies, it's essential to have a reliable means of communication. Consider providing your senior loved one with a medical alert system that allows them to call for help at the press of a button. Our call button can be paired to the same pager as the previously mentioned bed alarms, so it is the perfect accessory for any senior and caregiver.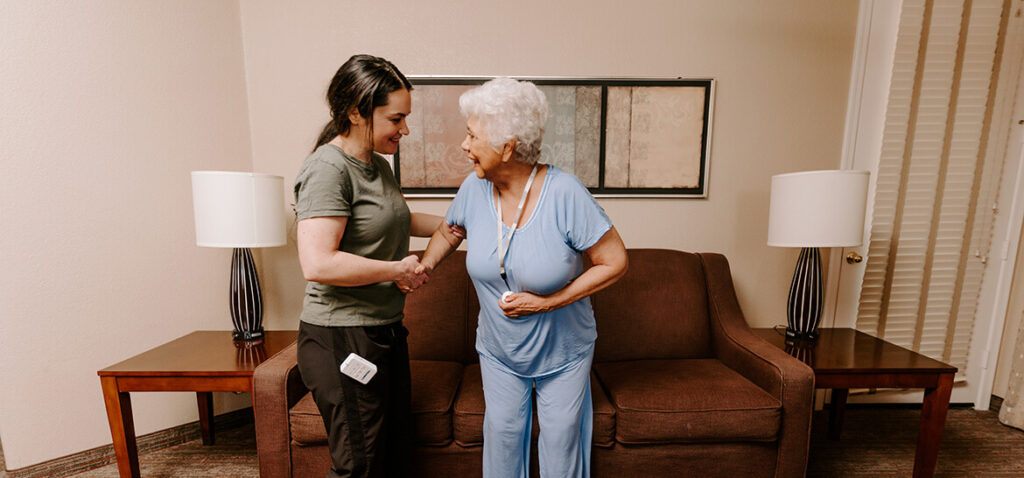 Conclusion to Improve Bedroom Safety for Seniors
Ensuring bedroom safety for seniors is an essential part of making their living space secure and comfortable. By implementing these tips, you can help reduce the risk of accidents and provide a sense of independence and peace of mind for seniors living at home. Remember that every senior's needs are unique, so adapt these suggestions to fit their individual circumstances. Regular safety assessments and adjustments can go a long way in keeping the bedroom a safe and comforting space for seniors.